Top 10 Angular 14+ Admin Templates in 2022 🥳
Most Recently Updated Angular (14+) Admin Templates 👌
Are you looking for some of the best Angular 14 Admin Templates of 2022? Look no further! In this blog, we will be showcasing to you our top picks for the best Angular 14 Admin Templates in 2022.
You probably know that Angular frequently updates the framework. And, sometimes it's hard to keep up with their fast pace development. However, our today's picks will let you enjoy Angular's most recent version. Your project can start off strong with Angular. Once your application is complete, you can reuse the code in future projects or give it to other programmers. You can now concentrate on creating your app rather than writing complex code, which is great news for developers.
Best Angular 14 Admin Templates
Before we jump into this awesome list of Angular 14 Admin Templates, please note that the list is in no particular order. So, feel free to check out and go through any of these templates. All of them are above average & up-to-date.
Egret - Angular 14+ Material Design Admin Dashboard Template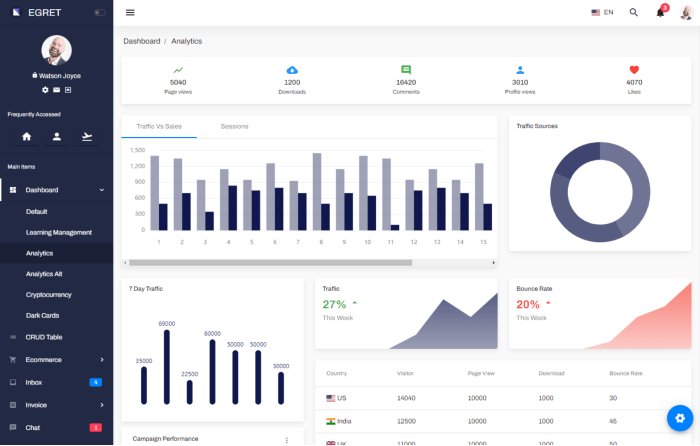 Egret is one of the most promising Pure Typescript Angular 14+ Material Design Admin Templates with Flex Layout and Angular CLI. It comes with a large collection of responsive, reusable components and has NO jQuery, and No Bootstrap. If you're looking for an ERP, CRM, or CMS admin template to start your project, Egret can be your go-to option. 
The template contains a wide range of features including multiple layouts, lazy loading, dynamic breadcrumbs, page titles, model-driven dynamic navigation, and multi-language support. Moreover, it has 2 prebuilt themes, Light & Dark mode, easy customization, and a lot more.   
Since its launch, Egret has received huge customer support & excellent reviews. And, it was even featured by the Themeforest Marketplace also. So, make sure to check out Egret before moving on to our next selection for the best Angular 14 Admin Templates. 
Details / Download Live Preview
Gull - Angular 14+ Admin Template with Bootstrap 5
Gull is another outstanding Angular 14+ Admin Template by UI-Lib with Bootstrap 5. It is a highly customizable template with so many useful features like full SASS support, pre-built apps, Angular Compatible UI Kits, customizable color schemes, Auth Guard, Data Table, and more.
The template uses NG Bootstrap, 3rd party NGX packages, and supports AOT compilation. Furthermore, it has dynamic model-driven navigation, full-screen search, 2000+ premium iconsmind icons, etc. Also, here you'll find web application backends such as a custom admin panel, 4 dashboard variations, accounting software, chat app, calendar schedule app, eCommerce backends, CMS, CRM, ERP, or SaaS.
The Gull template is a feature-loaded admin template that aims to make the Angular developer's life easier. Find out the rest of its potential from the buttons below.
Details / Download Live Preview
NOA - Angular 14 Admin Dashboard Template
NOA - is a beautiful, clean, and high-quality Angular Bootstrap 5 admin and dashboard template that has both Dark and Light Layouts. Also, it is a fully-responsive design with which you can build any type of online application. The application possibilities include admin panels and SaaS-based user interfaces. 
The template includes a myriad of features that will be extremely useful for developers who need to get their project up and running quickly or those who want to focus solely on creating a fully functional admin panel for running their businesses smoothly.
Details / Download Live Preview
Modern Admin - Angular 14+ Bootstrap 4 Admin Dashboard Template
Modern Admin is an Angular 14+, Angular CLI + Ng Bootstrap, Workable Apps, and AOT Compatible angular admin dashboard template. It is also a super customizable template with a truckload of features that can bolster your admin panel development process. 
This innovative admin template can help you create eye-catching, high-quality, and high-performing single-page applications. Your apps will be completely responsive, ensuring that they look great and work perfectly on desktops, tablets, and mobile devices.
Details / Download Live Preview
StartNG - Angular 14 Admin Template with Bootstrap 4
StartNG - is an innovative admin template built on the Bootstrap 4 framework and Angular 14 technology. It's quite simple to maintain when using such fantastic tools as Angular-CLI. On every device and in any contemporary browser, it is clear and completely responsive. The code is very simple to grasp. Also, it allows any Angular developer the ability to transform this template into a functional web application.
It has numerous sample pages that are easy to customize and have many ready-to-use features. There are a few ready-made layouts from which to choose. The quantity of components offered by frameworks like Bootstrap is generally insufficient to create a functioning project. The template includes a variety of well-liked UI elements, a common color scheme, and more.
Details / Download Live Preview
Azimuth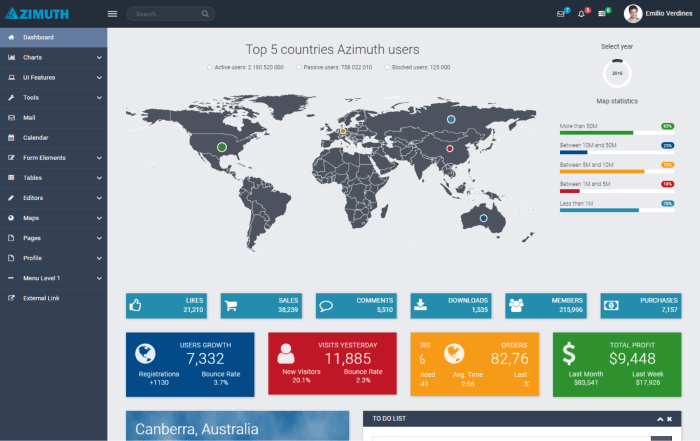 The innovative front-end admin dashboard template Azimuth is built on Bootstrap 4 and Angular 14. This implies that all of the data you see on graphs, charts, and tables is a Javascript mockup. Thus, there are no restrictions on your use of the backend of your choosing.
Angular-CLI, Bootstrap 4, lazy loading routes, nested routing, an Angular dynamic menu, and other capabilities are available in the template. Be sure to have a look at Azimuth.
Details / Download Live Preview
Endless - Angular 14 Admin Template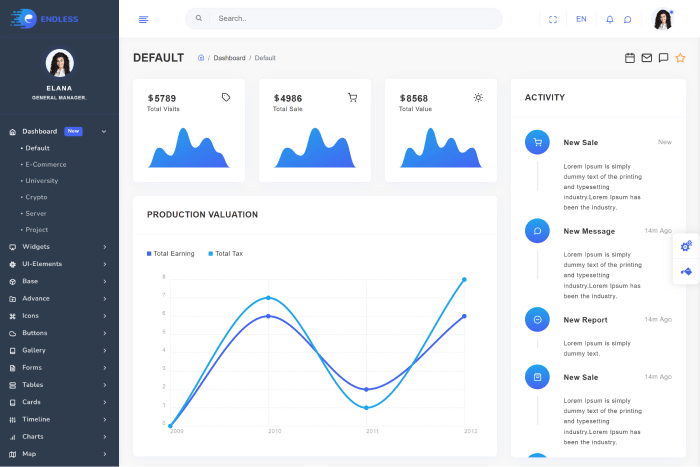 Yes, Endless Angular Theme is a pure Angular 14+ theme! You read that correctly. It's a No Jquery Angular Admin Theme with all features and functionality for your project's ease of integration. Endless theme document will assist you in learning Angular from the ground up to create a perfect real-time dream application.
The Endless Angular theme includes useful features such as No jQuery, an appealing dashboard, easy customization, light and dark theme options, RTL support, a responsive layout, and so on.
Details / Download Live Preview
Vex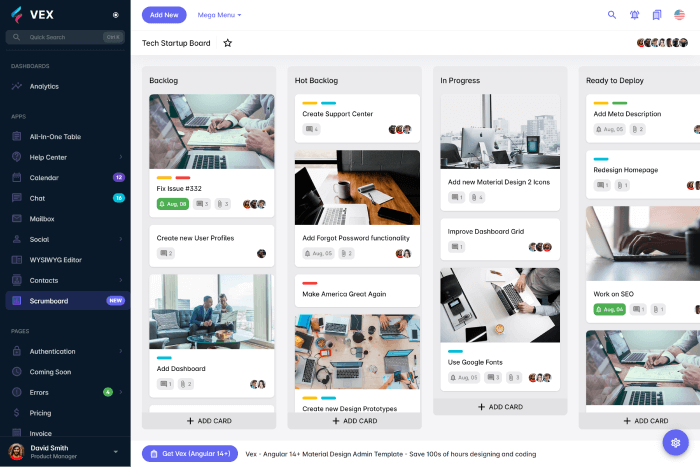 Vex is an Angular 14 admin template. It develops the elements of Material Design. You have all you need in the template to start your subsequent CRM, CMS, or dashboard-based project.
It offers a simple customization choice. Also, navigation menu items can be dynamically added. You can edit each page with ease. Furthermore, the Angular-CLI makes it simple to create new pages simply by building a component.
Light and Dark modes, various charts, Google Maps integration, etc. are just a few of Vex's features.
Details / Download Live Preview
Gradus
Gradus is an Angular 14 admin template with a strong focus on material design. It's very simple to maintain when using great tools like Angular-CLI. On every device and modern browser, the template is fully responsive and clean. The code is simple to understand and gives any developer the ability to turn this template into a real web application.
It includes many example pages with many ready-to-use elements that are simple to customize. You can select from a few pre-made layouts. This theme has nested views and lazy loading routes, as well as AOT compilation and six color schemes/themes.
Details / Download Live Preview
Lorax
Lorax is a modern admin dashboard template with a material design built with Angular 14 and the Angular-CLI. Lorax includes Angular Material UI for rich styling and design. The template includes the most recent version of Bootstrap, 5.0.1. There is no jQuery in the template. Therefore, you will get a pure angular experience.
It fully supports AOT and lazy loading to accelerate your project. Lorax employs SASS to make editing the styles easier. All styles are created entirely with SASS and are simple to grasp. It includes a large number of ready-to-use components that allow you to develop quickly and easily.
Details / Download Live Preview
Our Free Angular Admin Template - MatX Angular Admin Template 👌🥳
Similar Articles
10 Angular Admin Templates You Should Check Out in 2022